Chucan Fall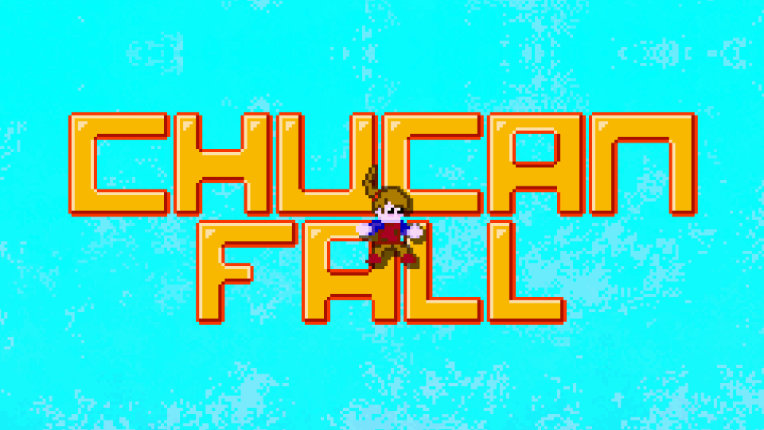 Well... I got COVID-19. More on that later! While I had some time off work (for the first time, ever), I decided to whip up a new little game. Not only that, but I decided to try out Construct 3, which I've never used before. Overall, I was really happy with Construct. It's super straight forward and easy to use. Very nice and visual, much like Flash in a lot of ways, and it's great for garbage programmers who still enjoy game making like myself.
The game is an endless faller, where you fall from platform to platform, collecting coins and avoiding obstacles along the way. I'm fairly happy with how it turned out. I might be speaking too soon here, but it seems relatively bug-free, which is a first for me, if we're being honest (Thanks Construct!). It's not super enthralling once you've been playing for a while, but I figure it's a fine way to kill 5 minutes.
I got to reuse a few assets from projects I had done earlier this year. The color palette is the same one I used in Roadside Boardin' (it's the NES palette), and I had the assets for the Medal Unlocks that I very meticulously cut out of an old Flash Game during the making of World War Wizards. I used a song from the EP I released back in April, Now Normal, for the background music. Saved myself some time here and there, but most of the art is fresh.
Give the game a shot and let me know what ya think. I am eagerly awaiting the moment that fuckoffasshole tears me a new one with another relentless review.
My Experience with COVID-19
On November 21st and 22nd, my girlfriend had some nasty headaches. We didn't really think much of it at the time, but on the 23rd she lost her taste and smell, so she went to a local health clinic for a rapid COVID-19 test, and it came back positive. We live together, and had spent a lot of time in close proximity that weekend, so there was a pretty good chance she gave it to me too, but I didn't have any symptoms yet, so we locked her up in the quarantine bedroom and I started camping out on the living room couch. Wednesday rolled around and I wasn't feeling anything unusual, so I went to work as normal. Same thing Thursday. Then Thursday night I had a headache and noticed a sore throat while I was falling asleep and waking up the next morning.
On Friday, November 27th, I went to the same place and got the same test that my girlfriend did. A fairly painful and confusing hour later, tada!, I tested positive. The physician seemed a lot less concerned about it than I expected, and also less concerned about it than I was.
Gonna be totally straight up here - I honestly thought I was about to die. I have some health conditions that put me in a higher risk factor, so I really did spend some time just coming to grips with the idea that I would be dead within the following few weeks. I spent a while getting to a point where I was okay with it, and ready to face it when I got there.
BUT, a few hours passed. Then a day. Then the weekend. Then even a few more days. And ya know what? I was feeling okay. I was having fairly intense though not entirely unbearable headaches every night before bed, and I had the classic sick sore throat when going to bed/waking up in the middle of the night/waking up in the morning. I coughed a little bit here and there. I had a kind of strange feeling in my lungs. I never lost my taste or smell, I never had an intense cough, and I never came anywhere close to dying. I got off pretty easy all things considered, and I think it's fair to say I've come out the other side with some new attitudes about a number of things. I don't know that I can put all of that to words right now, but maybe eventually.
My symptoms are, I think, completely gone now, and I am going back to work on Sunday. I still think this is a very serious disease, and my heart goes out to everyone who has been seriously affected by it - be it themselves or their loved ones - but in a sort of sadly funny way, I actually had a good time with covid. I know it's sort of a terrible thing to say, but covid basically gave me a free pass to finally have a little vacation from work that my boss couldn't say no to. And it gave me the time to make a little video game. So that's cool.
I hope you all are staying safe and healthy. Be careful out there. Have the best holiday season you can, and MAKE SURE TO CHECK OUT THE TANKMAS ADVENTURE 2020 EVERY DAY THIS MONTH. I made a lil' song for it this year, nothin' special. It's not in the game yet, but it will be at some point this month.